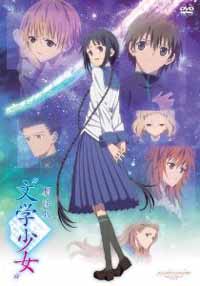 AKA: 文学少女 (Bungaku Shoujo); Literature Girl
Genre: Fantasy, drama
Length: Movie, 103 minutes
Distributor: Currently unlicensed in North America
Content Rating: PG-13 (Mature topics.)
Related Series: Bungaku Shōjo - Kyō no Oyatsu~Hatsukoi~ (OAV), Bungaku Shoujo Memoir I -Yume-Miru Shoujo no Prelude- (OAV), Bungaku Shoujo Memoir II -Sora-Mau Tenshi no Requiem- (OAV) (sequel), Bungaku Shoujo Memoir III -Koi Suru Otome no Rhapsody- (OAV) (seque
Also Recommended: Bungaku Shōjo (OAVs), Clannad, Air
Notes:
Rating:





Book Girl
Synopsis
Konoha Inoue is a normal high school student. While leaving the school ground one day, he encountered a girl who was literally eating books to savour the flavour of the story. Toko Amano, or Book Girl, as she calls herself, decided to take Konoha into the Literary Club so that he will not divulge her secret. Hence begin the story of Konoha and why he decided to write again.
Review
There are, as you can see, 4 OAVs to the movie and I was told, a whole manga series devoted to the title. That, should be intepreted as not-so-good-news because I have yet to see a truly successful movie that can spin off from a whole series plus manga to boot. The very unfortunate Escaflowne: A Girl in Gaia comes to mind as did the Rahxephon movie. Even Clannad movie had to forgo some of their main characters. Unless of course, the creators choose to treat the movie as an extended standalone episode. Then again, it is assumed that the audience have already known all the characters well and there is no need to explain. It is very difficult to strike a good balance between exploring all the characters, emphasizing a certain story arc or creating new ones for that matter. The problem is that there just isn't enough time.
I went into Book Girl blind, meaning I had never seen the OAVs nor the manga. It felt strangely disjointed. The movie spend a good 40 minutes or so establishing the relationship between Toko and Konoha. So we are treated to a whole sequence of carefree high school days and a quick look-see of several characters. I can't help but felt that these characters really had more than just a passing role in the series or manga. And I wondered where the seemingly non-existent plot was taking me.
And then suddenly he met a this character Miu, who is Konoha's childhood friend (aren't they all?!). She advance the plot as the rest of the movie explored the reason why Konoha stopped writing. But it is scripted in such a way it's like watching a narration of a mystery - like watching Konoha solving his own mystery to why he stopped writing. And all the while I was thinking, "Oh! There he goes again! Struck by yet another realization!" I mean, for goodness' sake, it's not like he was suffering from loss of memory so why all the lightbulb moments. It has already taken long enough to reach the main plot. By the time Miu came into the picture, I was already fidgeting in my chair. It's the thought that I paid 10 dollars that prevented me from walking out of the theatre. That and of course, I have a review to put up.
So as Toko strangely disappeared for the moment, we are focused on Miu, who unfortunately, was not such an appealing character. She came across as a devious, manipulative, spoilt brat bordering on creepy stalker type. From here on, I shall give the plot and story away by telling straight up that the reason Konoha stopped writing was because both he and Miu entered a story-writing contest years ago. He won. She lost. She lost because she ran out of imaginative juice. She had been telling Konoha stories since young and one day, the imagination simply stopped coming and she resort to plagiarism and reciting stories from books to keep Konoha by her side, listening to not-so-her-own stories. So, she threw herself off a building and Konoha, struck by guilt simply stopped writing. Outlandish? You bet your life!!! I could hardly believe I sat through 100 minutes for this! There had to be a better way to generate angst without people flying off the building for the strangest reason.
At this point of time, Toko came back into the picture. But of course, by now she had already been relegated to the role of the mediator for a happy-ever-after feel-good ending.
Having said all that, the movie had some good points. Aya Hirano put up a flawless performance, as usual, as Miu. Of course, it always made me felt as though I could kill her whenever she took on a spoilt brat role. The frustration that Miu felt and the sudden change in mood and tone whenever her masquerade was threatening to be exposed.
Production IG always delivers where traditional 2D works are concern. But then again, the show doesn't call for out-of-the-world special effects. But the animation of movement and composites was fantastic, especially the part where Konoha was running after a train leaving the platform.
I'd prefer the show focus on Toko rather than Miu. I mean, I thought the title said, "Book Girl", not "Stalker Girl". — Diane Tiu
Recommended Audience: Parental guidance definitely. After all, character in the movie have a suicidal tendency, not to mention a personality bordering on bipolar.
---

Version(s) Viewed: Theatrical release @ Singapore Animation Nation 2010
Review Status: Full (1/1)
Book Girl © 2010 Mizuki Nomura ・Miho Takeoka / PUBLISHED BY ENTERBRAIN, INC