AKA: 水のコトバ, Aquatic Language
Genre: Short Sci-Fi, Slice-of-Life Film
Length: Web release, 9 minutes
Distributor: Streaming on crunchyroll.
Content Rating: G (Nothing Objectionable)
Related Series: Time of Eve (Spinoff)
Also Recommended: Time of Eve, Pale Cocoon, Patema Inverted, Daicon III and IV Opening Animations
Notes: This is director Yasushiro Yoshiura's earliest available work; he's best known for creating Time of Eve and Patema Inverted. Elements of this movie, which originally aired on NHK as part of the "10-Minute Theater" series, later were incorporated into Time of Eve and to a lesser extent Pale Coccoon.

Rating:





Mizu no Kotoba
Synopsis
Several people are spending their evening in a cafe, including two gossiping girls, two debating men, a bookworm, and a boy who just broke up with his girlfriend. The cafe's waitress starts a chat with him, persuading him to take a look at certain easel, while other customers begin to make philosophical conversation and notice unusual occurrences. (Adapted from ANN)
Review
It's always interesting for me to see where famous animators started out. Makoto Shinkai started out as a game designer before making shorts like Other Worlds and She and her Cat, and you can see Hayao Miyazaki's style in the in-between animation he did at Toei, long before anybody even had said the name "Studio Ghibli". Likewise, this movie was Yasuhiro Yoshiura's first movie, way before Pale Coccoon got any attention and way, way before Time of Eve established him as a prominent director. It's a lot more like watching a historical artifact than watching a full-fledged movie or OAV, or like visiting the Walt Disney Family Museum and looking at concept sketches, but it's still interesting, and fans of his other work should definitely at least take a look.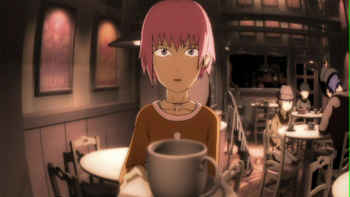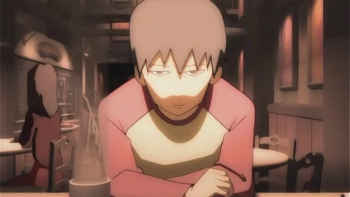 Mizu no Kotoba is set in a cafe very similar to that seen in Time of Eve, and it doesn't really have much of a plot. It's one scene, broken up only by a few shifts in POV, in which the few, mostly nameless characters talk about gender dynamics, Isaac Asimov's three laws of robots, and a fish framed in one of the cafe's pictures that one patron is convinced can move. Watching this is a lot like reading a rough draft, where the author throws down every conceivable idea with the plan of eventually removing what doesn't work and honing the rest. There's one clever surprise at the ending and a few amusing moments, but it doesn't exactly work as "entertainment" and most of the interesting possibilities don't really get explored. Again, this is not really worth watching as a standalone piece.
But a lot of the most distinct aspects of Yoshiura's style are here, or here in embryonic form: the earthy color scheme, the cafe setting of Time of Eve, questions about robotics, using technical graphs as a plot device, and, most notably, a prototype of Nagi, Time of Eve's spunky barista. So if you're interested in seeing how his style came to be, this is worth checking out. It's unpolished as it stands: the animation's crude and nowhere near as smooth as anything he put out later, there's no resolution, and again, it's not even much of a story....but if treated as a work in progress, it's actually pretty interesting.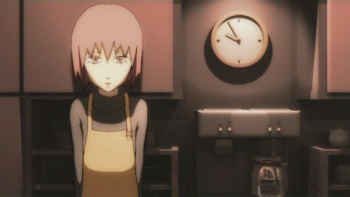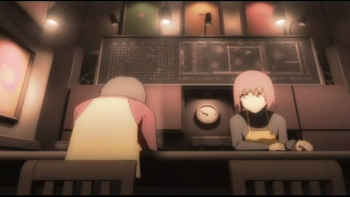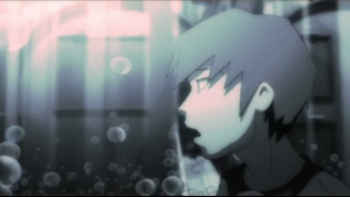 To make an analogy, Aquatic Language is to Time of Eve and Patema Inverted as The Adventures of Andre and Wally B is to Pixar. Each started off with one, shaky effort that looks unrefined and crude in hindsight, but if you want to understand how they got to making great movies, later on, it's essential.

Not that interesting by itself, but fascinating for people who liked Yasuhiro Yoshiura's later works. If you didn't like those or aren't interested in checking them out, don't bother with this. — Nicoletta Christina Browne
Recommended Audience: Nothing objectionable here, although it's not really the sort of thing children will enjoy.
---

Version(s) Viewed: Stream courtesy of crunchyroll.com
Review Status: Full (1/1)
Mizu no Kotoba © 2002 Studio Rikka/Yasuhiro Yoshiura