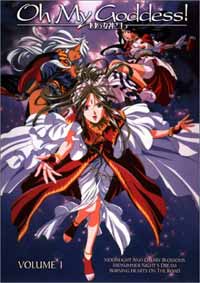 AKA: Aa! Megamisama!, Ah My Goddess
Genre: Fantasy / divine girlfriend romance comedy
Length: OAV series, 5 episodes, 30 minutes each
Distributor: VHS and R1 DVD from Animeigo
Content Rating: PG (mild violence, some fan service, mild adult themes)
Related Series: Ah! My Goddess TV season 1 and 2 (prequels), Ah! My Goddess the Movie, Ah! My Goddess: Fighting Wings (sequel), The Adventures of the Mini-Goddess (comedy spinoff)
Also Recommended: Please Teacher, Video Girl Ai, Tenchi Muyo, Ai Yori Aoshi
Notes: Based on the manga by Fujishima Kousuke. The original title was "Ah! My Goddess", which is a direct translation from the Japanese title of Ah! Megamisama. Kousuke Fujishima was originally unaware of the English-language pun that could be created by changing the "Ah!" to "Oh," but was informed and decided to go ahead with the pun. Due to name licensing conflicts in the US, Pioneer's release of the movie is labeled as "Ah My Goddess", but it is part of the same franchise.

We have reviews of several other titles in this franchise listed under "A".
Rating:





Oh! My Goddess
Synopsis
Morisato Keiichi is a typical college freshman at Nekomi Tech, trying to order takeout when he mistakenly dials the Goddess Helpline. Before he can even say anything, from the mirror appears...a real in-the-flesh goddess! The goddess, who introduces herself as Belldandy, tells Keiichi she can grants him one wish...and he jokingly wishes for a goddess like her to stay with him forever. Of course, Belldandy takes this literally, and in a flash of light, is bound by contract to stay by Keiichi's side forever. Not very convenient in an all-male dormitory. Oh My Goddess is the story of Keiichi, Belldandy, and the people (and deities) in their lives, and a tale of the chaos that happens when a human begins to fall for a genuine goddess, and she for him...
Review
This OAV series has a very select audience, it seems: fans of the manga. This romantic comedy, as charming and beautiful as it is (and as much as I truly like this series), has a few drawbacks to it...as character development is not nearly as fully realized in the anime. In fact, the characters really suffer from the compression of several manga volumes into the five OAVs made.
However, that should not detract from one of the most obvious assets of these OAVS: they are truly works of art. From the temple where Keiichi and the goddesses live to the hill where the dirt-bike race is held, nigh every setting is sumptuously drawn. Character designs are not just loyal to the original...but the entire anime is suffused with Fujishima's distinctive art style. (The running joke in this anime is that the goddesses' hair was just too expensive to animate more than the five OAVs made.)
The characters themselves are slightly caricaturish versions of their manga selves. Keiichi is a little *too* shy and unassuming and Belldandy a little *too* much a a traditional wife figure. Sexy, sultry, inept Urd and immature genius Skuld are done well, but the whole thing seems to need more of the manga treatment...more time, really, which, unfortunately is not possible with the OAV setup of the series.
The dubbing for this series stands out to me as perhaps the seminal work for the (now sadly defunct) Coastal Carolina Studios. Juliet Cesario is a wonderful Belldandy, and Scott Simpson is an endearingly shy Keiichi - and they have a great amount of chemistry together, due in no small part to them being an actual couple in real life. Of course, Inoue Kikuko and Kikuchi Masami are also great in the Japanese, though the real treat is Touma Yumi's sultry performance as the hilariously forward Urd and Hisakawa Aya's equally silly take on bratty (but cute) Skuld. Really, you can't go wrong listening in either language.
Music is fairly well done, with the seiyuu pulling together for some rather catchy themes, and the direction, if a little overstated, does pick up nearer the end of the series when the actual plot begins to kick in. Overall, the Oh My Goddess OAV series is a good effort and a very worthwhile watch for the fans of the manga, and probably any fan of the romantic comedy genre. However, again, my gripe is that with the material in the manga being so compressed, it could've fit so much better as a longer OAV series or even a TV series. But what's done is done, true?
Too short for five stars, but otherwise a solid watch for those who enjoy romance comedies with a touch of drama. — Carlos/Giancarla Ross
Recommended Audience: Very young children may be scared by some of the goddess's effects (lightning, etc). Urd's antics and the way she dresses may give some parents a pause, but it's all in character and usually done in a comedic way. Probably good for older children and above.
---

Version(s) Viewed: VHS, English dub; VHS, Japanese with English subtitles, R1 DVD
Review Status: Full (5/5)
Oh! My Goddess © 1993 Fujishima Kousuke / Kodansha / TBS / KSS Films