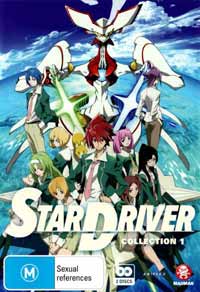 AKA: STAR DRIVER 輝きのタクト (Star Driver Kagayaki no Takuto)
Genre: Action, Comedy, Science-Fiction Drama, Romance
Length: Television series, 25 episodes, 24 minutes each
Distributor: Currently licensed by Bandai Entertainment.
Content Rating: PG-13 (Violence, nudity, fanservice.)
Related Series: Star Driver The Movie
Also Recommended:
Notes:
Rating:





Star Driver
Synopsis
On the remote paradise of Southern Cross Island, there exists a clandestine organization of eccentrics called the Glittering Crux Brigade. The sole purpose of said organization is to resurrect inactive mobile suits called Cybodies, which have been asleep for ages beneath the island. These cybodies can only be controlled by pilots who are called Star Drivers. For the full power of the cybodies to be actualized, the Glittering Crux Brigade must break the seals of the four shrine maidens that reside on Southern Cross Island.
Meanwhile, after being saved by Wako Agemaki, one of the shrine maidens, Takuto Tsunashi becomes a resident of the island. He strikes up a friendship with the young lady as well as her betrothed, Sugata Shindou. The once dour couple becomes all the more lively now that Takuto has become their friend and protector of the other maiden's seals. This is because Takuto is none other than the Galactic Pretty Boy, star driver of Tauburn, the 22nd cybody.
Review
Even though it suffers from the occasional style-over-substance handicap, Star Driver has more than enough pluck, sincere sentimentality, and visual surprises to deem it a sleeper hit of 2010.
The viewer is introduced to the arranged and engaged couple of Wako Agemaki and Sugata Shindou, strolling peacefully across a scenic beach, resting beneath a star blanketed sky. Takuto, the main hero of this anime, is then introduced through the means of a very unusual manner—being saved by Wako after drowning. Takuto is nothing new in the world of anime; He is tall, lanky, thin, and tends to let his 'can-do' attitude and youthful exuberance get the better of him. Sound familiar? It should, because those of the characteristics of just about every male protagonist in just about every shonen anime.
Takuto is not the most multi-layered character, but then again, he does not need to be. His ability to fight the forces of evil amidst gargantuan challenges is more than enough reason for those watching Star Driver to root for him. Most of the character development stems from the secondary characters—their struggles, thoughts, and fears are all brought to the forefront, and their motives are based more on what can be gained for them personally, whereas Takuto lives by the motto of "protect the weak" which is definitely altruistic in nature. Star Driver is full of bright, bubbly, and jolly characters which explode onto the scene with so much gusto, that it is near impossible to find at least one character that the viewer can call a favorite.
Speaking of gusto, this anime is—visually speaking—going for it. It is of no surprise that the animation studio BONES is at the helm of this technical wonder; a studio known for making some of the most visually impressive works ever to be animated (Full Metal Alchemist anyone?). There are little-to-no corners being cut in relation to the budget, whereas in some anime this is not the case. Some series start off strong visually, and then towards the end (not even then) the animation quality will take a nose-dive and look as though there was no regard for continuity. Character designs—once polished—become sloppy, animation fluidity is overextended, and an overall rushed feeling is exuded. With Star Driver however, we are given one graphic knockout after another especially when it comes to the battles between cybodies. When the cybodies bring about "zero-time" another dimension—pulled from time and space—bursts forth onto the screen and the spectator is thrown into a place of star studded and color splashed beauty. The battles are brief and last for about two minutes. A rarity in a genre which usually stresses stretching things out time-wise in the action department. The fights may be put on the back burner on regular basis to make room for character study and interpersonal relationships, but the cybody conflicts are the most glorious thing about this series. When there is action, it is fabulous.
Fabulous is the perfect adjective to describe the character designs as well—so much so, that the series uses those same words on a few occasions to describe Takuto, who is nothing short of being a magical boy (an anomaly in and of itself). Takuto's transformation scenes are nothing short of astounding, and are the perfect example of how to properly utilize stock footage.
Star Driver is a series which stresses fanservice; of the best possible kind of course. Both males and females are paraded around as objects of desire without resorting to the lowest common denominator of constant panty-shots and gratuitous sexuality. In fact, the guys are given the same adoration as the girls. One episode, called The Meaning of Mandrake, pokes fun at this parallel in which the main villain is struck by Takuto's hotness because she has a thing for "pretty boys," and thus loses the battle against him after being distracted. Most anime would either focus on female beauty for male fans, or male beauty for female fans. It's this aberration which makes Star Driver enjoyable for both sides of the gender spectrum. The cybodies themselves are worth mentioning since they are different from most mecha in other giant-robot anime. Neither bulky, nor hulking, these mech designs are more graceful looking, each with their own special power which emulates the personality of their specific driver.
Another strength of this series is that of music, Star Driver has a vast array of musical types to draw from. Everything from upbeat poppy tunes, to atmospheric orchestral accompaniments are all utilized properly in Star Driver. One piece worth noting is a strings number by composer Satoru Kousaki called Memories. The opening and ending themes are nothing special, just the usual J-pop and J-rock fare of modern anime. Fortunately, no one piece of music is overused, so the emotional weight stands true each and every time it is heard.
This review has spent quite some time gushing over the technical details, but the plot—for the most part—carries equal weight. Much like the visuals, this series is very sensuous in nature and depends on some sexual euphemisms to act as a catalyst for plot development. For example, the power used to pilot a cybody is called the libido, and if it the drivers "libido" is too weak, they cannot pilot the cybody effectively, or will be defeated by another star driver which has a stronger libido. As for the shrine maidens of the island, whenever one of their seals are broken it looks a lot like their virginity was forcefully taken in a symbolic sense. Yes, the series goes into that territory, but never in a exploitative manner. The symbolism adds a nice touch, and Star Driver never resorts to heavy-handed symbolism.
Star Driver's story is incremental in nature, opting to tell the story little by little in bite sized pieces instead of in huge chunks. In theory, this keeps the viewer coming back for more since they want to know what happens next, and what will happen to the protagonists. While the series does build up some tension in this regard, there are times when the plot meanders and the dialogue follows suite. There were certain points in the anime when I felt as if said scene could have been paced better, or such-and-such a part could have been taken out, or at least sped up. Luckily, filler is kept to a minimum in this series, which is something to be grateful for. Now if only the plot was completely on par with the visualization of this anime, than everything would be roses.
Is this anime a great one? No, but it is surely a good one. It's bright, energetic, funny, and has plenty of heart. The problem is that this series—at times—depends too much on its use of style and visual wow-factor, that it looses sight of telling a coherent story. But the story is solid enough, and although the road is bumpy at times, this is one anime ride that is worth taking.
A visual tour-De-force that falls just a little short of excellence in the plot department. Star Driver garners a very strong four star rating. — Dallas Marshall
Recommended Audience: There is enough violence, nudity, and sensual scenes to give this anime a no-show to young kids. Teens are okay though.
---

Version(s) Viewed: R1 BluRay from Bandai Entertainment
Review Status: Full (25/25)
Star Driver © 2010 BONES, Aniplex, Star Driver Production Committee