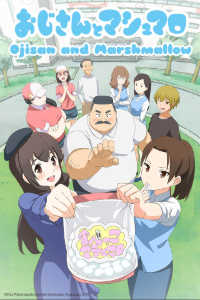 AKA: おじさんとマシュマロ (Ojisan to Marshmallow)
Genre: Office romance, comedy.
Length: Television series, 13 episodes, 4 minutes each
Distributor: Currently available streaming on crunchyroll.
Content Rating: PG-13 (Mild slapstick violence, fanservice, sexual situations.)
Related Series: N/A
Also Recommended: I Can't Understand What My Husband Is Saying.
Notes: Based on the manga series by Rekomaru Otoi, serialized online via the online community Pixiv and later picked up and released by Ichijinsha.
Rating:





Ojisan and Marshmallow
Synopsis
Habaniro Hige is a somewhat rotund man who works for a web-based company, and has a huge sweet tooth for Tabekko Marshmallows. Iori Wakabayashi is a woman working at the same place, who is also in love with him, and will gladly use his weakness for marshmallows to make him understand that.
Review
This show wouldn't have been the first show to "haw haw" compare various bodyparts to marshmallows that I've seen (or read), but it is maybe the first where the source of comparison is male. Habaniro Hige is a somewhat overweight man in his late thirties, easily recognized by his soft belly (hence most of the marshmallow comparisons) but also his moustache. (Hence his name.) Granted, overweight men in anime isn't nearly as rare as overweight women, so Hige's existance might not be a rarity on its own, but you don't really see them as romantic targets all that often.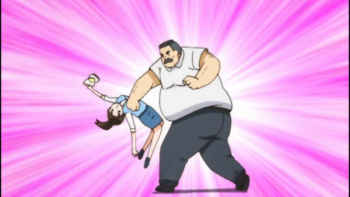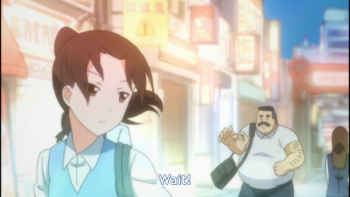 That goes double when the romantic potential is a pretty attractive woman. Iori Wakabayashi is clearly interested in Hige, and her many attempts at getting his attention borders on fraud and sexual harrassment, though thankfully not too inappropriate ones. The humor of the show is pretty off-color, though part of it is centered around whether Hige is aware of the fact that he's being hit on or not. In fact, a lot of the humor is based on the fact that he seems fairly unaware of all the craziness going on around him. Iori is fairly aggressive romantically and sexually, though she rarely comes straight out and says what she wants. (She's fluent in the language of "hints", though.)
She isn't the only source either. Iori's overprotective brother Isamu doesn't take well to his sister's interest in Hige, and his plans to foil that is rather... excessive. But before that, there was an episode centered around him visiting the production facility for Tabekko Marshmallows, but while one of the characters working there wondered why a grown man would visit the factory itself, they tactfully decided against going with the "he must be a pedophile" joke, and instead lean on his odd reactions to tasting the "fresh off the line" pieces. One of the veterans working there even refer to him as "a fairy" because of it, which is respectful in a weird way.
In fact, what with the craziness going on, it's actually kind of a relief to see a show where a male character gets to become a target for lots of wanted and unwanted attention, but isn't made to suffer from it outside of his own shyness or awkwardness. You could probably argue that Iori gets to be the butt of the jokes, but the worst that really happens to her is that she has to deal with her many failures of getting his attention. Her brother is not so lucky, though, but most of that is mostly of his own design, and honestly, he has it coming more often than not. Granted, he IS a huge idiot, but really...
And with Mioko, that makes three for this love triangle thing that happens. This brings the "using marshmallow as an euphemism for female parts" aspect full circle, as she's also somewhat chubby, though not nearly as much as Hige, plus she's got huge... tracts of land. She is also sort of married already, but why let that get in the way of an office romance that doesn't seem to be heading anywhere in a hurry?
In a way, it's to the credit of the show that it is as unhinged as it is without taking it too far. There's jokes about adultery, weight, breasts and marshmallows, but the show avoids doing stuff like accusing someone of being a pervert or a pedophile. Or if they do, it's not treated seriously in the least, or in a way that can be looked at as kicking downwards. Admirable as that might be, though, that's not to say that all the jokes necessarily work. The first couple of jokes is Hige trying to appear mature about marshmallows, or Iori trying to seduce Hige. Or Hige and Iori looking like two characters in a fighting game as Iori tries to bait Hige into accepting a marshmallow... her way. It's kind of "I get the joke, I think, but... what?!" There is an odd special OAV episode that centers around Hige being turned into a baby and sort of acting like one while thinking like his adult self, and it's... an awkward episode in some ways, making it the standout episode of the lot.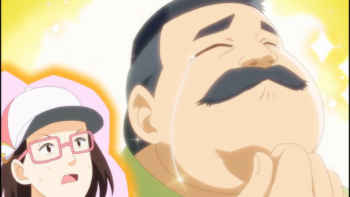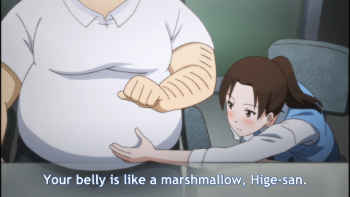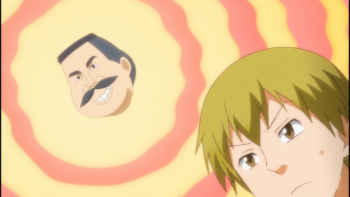 It helps that the show looks fairly nice too. Both Hige and Iori are designed more like real people, which works for this show, given how direct it is. Iori's design might be like it is due to her deadpan nature, however, and one has to wonder, since Mioko's design is definitely more moe, while Hige and Iori's boss looks more like a charicature. The backgrounds are fairly well made despite the typical nature of the scenery, and particularly for a short piece like Ojisan and Marshmallow, so no complaints there.
For the most part, Ojisan and Marshmallow was fun, and even kind of endearing. Hige is presented as a fairly gentle man who is vaguely aware of what's going on, and the show even ends on a surprisingly well thought-out note that puts his behavior towards Iori into a whole 'nother perspective. The character of Mioko feels more like wasted time, or a distraction between the bouts of activity, or even a vessel for fanservice -- though admittedly, the latter doesn't necessarily make her stand out against Iori's forwardness either. But given how the show starts and ends, she still feels like a redundant addition who doesn't necessarily add anything to the show besides huge boobs and an Osakan accent (given a southern twang by the subtitles, as is fairly typical of their kind.)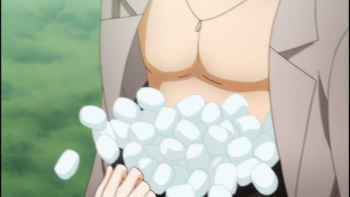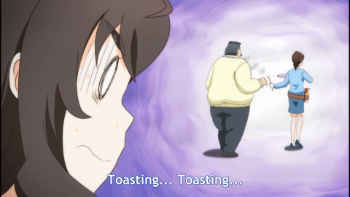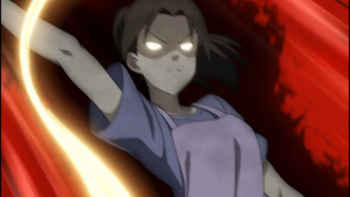 So, is the show worth watching? I'd have to say yes. The episodes are three and a half minute long, so it's easy to just throw in an episode or two in any viewing session. It's sort of average, but charming enough to stand out a little among its short runtime comedy peers. It made me smile and even occasionally laugh, so I say go for it.
Decent, yet occasionally borderline indecent in that mostly good way that only unashamedly sexual comedies can get. — Stig Høgset
Recommended Audience: There is some slapstick violence here, some light onscreen while some slightly less so, most often courtesy of Iori's stupid brother and his antics backfiring on him in spectacular ways. The show also has a bit of fanservice and semi-nudity, particularly at the last half, and a fair share of sexual innuendo and general sexual behavior that doesn't really go anywhere. Still, all of this makes the show inappropriate for children and young teens.
---

Version(s) Viewed: Digital stream on Crunchyroll, Japanese with English subs.
Review Status: Full (13/13)
Ojisan and Marshmallow © 2016 Creators in Pack, Dream Creation.