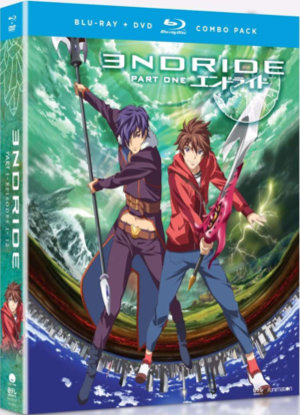 AKA: エンドライド
Genre: Fantasy/Action/Bromance
Length: Television series, 24 episodes, 23 minutes each
Distributor: Currently licensed by FUNimation, also available streaming on Crunchyroll.
Content Rating: 14+ (Mild violence, fanservice.)
Related Series: A smartphone game, Endride: X Fragments
Also Recommended: Scrapped Princess; Record of Lodoss War
Notes: Written by Toko Machida, directed by Keiji Gotoh.
Rating:





Endride
Synopsis
Shun Asanaga loves crystals; in fact, he yearns to be pulled into a magical world by one. You might rightly find this a strange aspiration, though it will make sense eventually, believe it or not; but in the meantime this thing ACTUALLY OCCURS via a strange crystal in his father's office. The first person he meets in the world he winds up in- a world called Endora- is Emilio Langheim, a prince who is obsessed with getting revenge on Delzaine, the king; while Delzaine has raised Emilio as his son, Emilio has heard that Delzaine actually had Emilio's real father murdered. While Emilio just lives for vengeance, a King needs to have a broader perspective on things, and through Shun- and ESPECIALLY through a group called the Ignauts, led by the incredibly charismatic Demetrio- Emilio begins to understand more of what's really been going on in the kingdom, and begins to understand the need to fight for justice and for Endora's preservation.
Review
I thought this started a bit slowly, and for the first three episodes or so it had trouble keeping my interest, but then I got caught up in it, and marathoned much of it in a single weekend.
There are a few essential dramatic themes in the show. The primary one is the relationship between Emilio and Shun. The two of them seem opposites in personality: Shun is cheerful, brash, naïve, and filled with curiosity about this new world; while Emilio is reserved, cynical, and resentful, and affects a world-weary attitude (even though he eventually finds out that he really knows much less about his world- including some close personal matters- than he thinks he does.) The two quarrel all the time, and frequently end up in fistfights with each other; and once even spar with their weapons- enormous lance/sword things of a class called Warp Relics, which I'll say more about later, but which seemed a downright dangerous practice. One DOES wonder if all this, deep down, is some kind of sublimated BL thing- and the closing song of the first half of the show seems explicit about it, certainly being the most gorgeous ballad about the love between two dudes that I'VE ever heard, though since I don't usually look at yaoi I'm sure there are others out there as nice or better. But the show does "play it safe" by giving Emilio an official female love interest, a girl named Alicia, though most of the time she's more interested in HIM than he seems to be in HER; his overriding interest, at least in the first half of the show, is in his revenge.
The second major dramatic theme is that both Emilio and Shun are laboring under misconceptions about both personal matters AND about the world at large. Demetrio, the leader of the Ignauts, a rebel group that Emilio tries to enlist to help him in his revenge, instead schools Emilio about the injustices of Endora, including cruel treatment of the poor, and especially the brutality of the humans (Endras) against this world's beast-people, the Zoozians, who are condemned to slavery by the Endras. Demetrio has this incredible ability to persuade others- he can talk assassins out of assassinating, and betrayers out of betrayal- and frankly I would have preferred HIM to Emilio for King of Endora. (Just as I would have preferred that Alicia wind up with Shun rather than Emilio- she's generally cheerful, like Shun is, rather than being of Emilio's glum and dour disposition.) Still- and I have to be careful not to spoil here- in time Shun may also come to bitterly despise someone as much as Emilio does- and perhaps for better reasons.
The show has its share of interesting, solid characters. Besides Demetrio, my favorites included Pascal, a scientist and former tutor of Emilio who, like Demetrio, tries to get Emilio to act more sensibly and compassionately; and the androgynous Eljuia, a clairvoyant Ignaut with a particularly useful Warp Relic.
I said I'd say more about the Warp Relics. Apparently many (though not all) of the residents of Endora are able to create these things, most of the time by erupting them out of their bodies. (As I said, in the cases of Emilio and Shun these are enormous lance/sword combos, and their materialization out of the chests of our heroes looks kind of painful.) I guess this is all related to the Warp Particles that Endora is at least partly composed of, and whose unexplained disappearance is one of the two existential threats to this world that occupy the second part of the series. (The other is a rogue Zoozian who becomes a literal monster as the result of an accident.) I was kind of annoyed that the show invokes the Hollow Earth idea (Endora's the land "inside"), which hasn't really been a respectable idea even for fantasy for a very long time.
I'm also inclined to wonder if Shun made the right decision at the end of the show, if for no other reason than that his explanations to a certain party about a certain matter are inevitably going to be rather...awkward. Still, the show overall certainly has its heart in the right place (though it stoops to maudlin silliness at times- e.g., Alicia's dad's tale); eventually becomes well paced (after its slow start); DOES clear up most of its mysteries; and some of the characters are impressive, or at least intriguing. Not all, granted- it's got a few weak characters- but there were ones I grew to like and/or care about. And this show LOVES surprises. SERIOUSLY.
On my personal scale of Epic Fantasies, I'd rate it a bit below Scrapped Princess (my perpetual favorite), but maybe a bit above Record of Lodoss War (which I thought started out too slavishly following Tolkien, though it did pursue its own path later.) Both of the latter are Recs. — Allen Moody
Recommended Audience: Fantasy violence. Both the outfits of Alicia and that of a girl named Louise (NO relation to THAT one) are fanservice-friendly, but Alicia's is more in an innocent way- a form-fitting outfit that DOES cover her entire torso- while Louise, who's VERY buxom, puts her goods more on display with an outfit that bares her cleavage. I would think Louise's criss-crossing straps would be more uncomfortable for her than Alicia's more "sensible" outfit, especially given the difference in bust size, but there IS the audience to consider, I guess.
---

Version(s) Viewed: Streaming on Crunchyroll.
Review Status: Full (24/24)
Endride © 2016 Brains Base.