AKA: あさがおと加瀬さん。, Kase-san and Morning Glories
Genre: Romance, Yuri
Length: OAV, 58 minutes
Distributor: Currently licensed by Sentai Filmworks.
Content Rating: 13+ (Sexual Conversation)
Related Series: Kimi no Hikari: Asagao to Kase-san (Promo Vid)
Also Recommended: Sweet Blue Flowers, Whispered Words
Notes: Based on the Kase-san and… series of yuri manga written and illustrated by Hiromi Takashima, which ran in Hirari magazine from 2010-2017; as of Summer 2018, a sequel series, Yamada to Kase-san, is running in Wings magazine.

A short preview video, Kimi no Hikari: Asagao to Kase-san ("Your Light: Kase-san and Morning Glories") was released in May 2017; it was bundled with the fourth volume of Kase-san in Japan in July 2017.
Rating:





Asagao to Kase-san
Synopsis
Even though Kase-san and Yamada-san are both girls, they have been going out for some time, but entrance exams are approaching, and Yamada-san has to make some difficult decisions...

Review
So it's not exactly news that I'm the resident yuri fangirl around here, and given that I'm also the resident lesbian that should be even less of a surprise. Unfortunately, it sometimes can feel that a lot of the yuri that actually gets animated tends to be the "edgy" and "scandulous" variety (a la Citrus and Netsuzou Trap) and that gets old for me pretty fast. Let's just say that it ended up being a pretty pleasant surprise to me and some of my other queer female yuri fan friends when Kase-san got an anime, and an even bigger pleasant surprise when it was showed at Anime Expo 2018. It was maybe a bit of a bummer for us that it turned out to be an OAV and not a full series, and the OAV basically feels like a preview/spotlight showcase for the manga. But if you're a fan of the manga like I am, that isn't a bad thing at all; I'm just hoping that this leads to a full tv series at some point.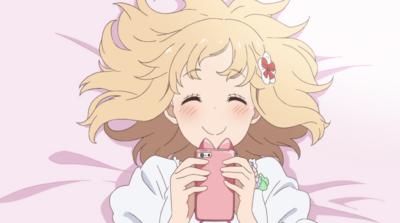 I'd say that if you aren't a fan of the manga, this isn't the place to start: it feels a bit like a "greatest hits" sequence from the manga, or maybe a recap episode (minus the narration). If you are a fan of the manga, though, this is going to be a lot of fun. You get to see cute scenes of the two of them flirting together on the beach on their school trip to Okinawa, Kase-san coming to Yamada-san's room for the first time (cuteness follows), and the OAV ends with a pivotal scene of…well, it's not exactly spoilers that they're a couple, and I like that the OAV has them start out as that right from the get-go, but I'll try to restrain myself a little bit. But for us queer girls, it's a really unbelievably cute scene.
And this is really beautifully drawn and animated; if this does get a full series, I really hope that they retain the same staff. The colors and art style have plenty of shoujo sparkles in the right places (fun fact, this is one of the few yuri manga that actually serialized in a shoujo magazine that I know of), and the colors and animation just…capture this feeling of gentleness that I love about the manga so much. One reason I love Kase-san so much is that it's so gentle: it's a cute, unproblematic manga about two queer girls falling in love, and it's free of angst and overtly sexualized crap but also really explicitly makes it clear that these two are a couple. If there's a healing anime for queer girls, it might be this.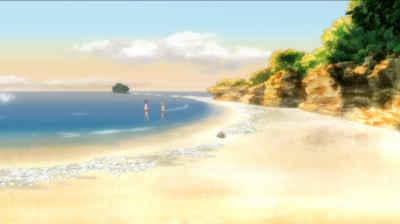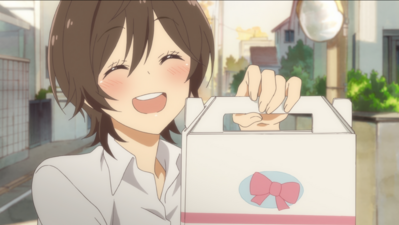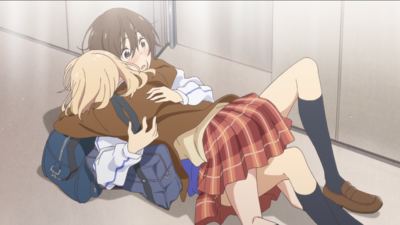 If you're a yuri fan and you haven't read the manga…go read it before you watch this, and then come back around to this. I seriously hope it gets a release outside of the one screening at Anime Expo, and I hope it leads to a full series. It'd make this yuri fangirl happy.
Incomplete, but oh so beautiful. Please please please let there be a full series.... — Nicoletta Christina Browne
Recommended Audience: The two at least talk about having sex but don't do anything onscreen. That's pretty much it.

And a quick reminder that homosexuality will never be grounds for a more "mature" rating in our book. If you wanna be a homophobic asshole, don't bother emailing me.

---

Version(s) Viewed: Screening at Anime Expo 2018 (Japanese with English Subtitles)
Review Status: Full (1/1)
Asagao to Kase-san © 2018 Hiromi Takashima · Shinkanshokan / Asagao and Kase Production Committee