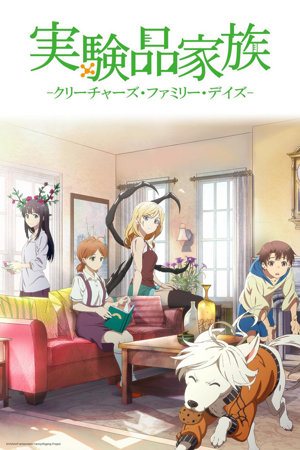 AKA: 実験品家族 -クリーチャーズ・ファミリー・デイズ ; Jikken-hin Kazoku: Creatures Family Days
Genre: Fantasy/Family Drama
Length: Television series, 12 episodes, 24 minutes each
Distributor: Animen (publisher, per crunchyroll)
Content Rating: PG-13 (Mild violence, mild fanservice.)
Related Series: N/A
Also Recommended: Princess Resurrection
Notes: Based on manga by Yanai (a Taiwanese author), serialized in Comic Bunch.
Rating:





Frankenstein Family
Synopsis
The world of 11-year-old Tanisu and his four older siblings drastically changed the night their mad-scientist parents were arrested and the lab they grew up in was confiscated by the government. They quickly learn that ordinary humans are not comfortable with their "special abilities", all of which were artificially given to them by their parents (except Tanisu's extreme intelligence)- it seems their parents used their own kids as guinea pigs- abilities which, for three of the five, involve visible "abnormalities", and which occasionally spin out of control. Tanisu wants to help his sibs adapt to the world of "normal" people, but finds that his own knowledge of the outside world- and especially of its inhabitants- is not really as deep as he imagines. Can these kids find acceptance in the normal world at all?
Review
I found this little curiosity while looking for shows on Crunchy that no one had taken yet. This obscure Taiwanese-Japanese co-production eventually caught my interest, even given its one tremendous downside.
So let's get that downside out of the way right away. Here it is: FULLY ONE THIRD OF EACH EPISODE'S 24-MINUTE RUNNING TIME IS "EXTRAS" RATHER THAN SHOW. It's mostly conversations between some of the cast members (it was interesting that Tanisu is voiced by a woman), which don't even deal that much with the nitty-gritty of the show's production (which might be of some interest); mostly it's trivial fluff. For example, they have a question they ask all the cast, as well as seemingly EVERYONE they run into (convention participants, etc.): "If you were going to be modified, what power would you want?". WHO CARES?
All of the "extras" (except in the first episode) turn up AFTER the 15-16 minutes of actual anime per episode you get, so it's no great hardship- you can just stop watching with the closing credits- but it seems a swindle for a show nominally presented as standard length; but considering Frankenstein Family as a "short" show, on its own merits, it ain't half bad. And that's what the rest of this review is going to be about; for the kids really ARE alright, indeed.
Tanisu clearly feels he's qualified to be the leader of his family even though, at 11, he's the youngest. But his confidence in this is also arrogance in this, and early in the series his first actual experience with humans in their natural setting deflates the balloon of his ego a bit. In fact, if he didn't have his sister Suishi along, it would have gone worse than it did.
Suishi is probably my favorite character in the show. Her special ability DOESN'T show: she can read minds. (When she's reading someone's thoughts, her "hair antennae" twitch.) She's normally taciturn, seemingly completely unemotional (though mildly sarcastic), but over the course of the show we do begin to realize that there are some real emotions hiding behind that stoic exterior. Like Tanisu, she can "pass" for normal just based on appearance. Tanisu's "genius" or no, Suishi easily seems the most thoughtful of the kids, but since she says so little, they apparently haven't noticed.
Next we've the twins Ashisu and Aisuri. They didn't stay twins in appearance, though, thanks to their parents' experimentation on them, AND also due to an accident. Ashisu is part plant; she always seems to have branches or flowers sprouting from her body, and we find out in one scene that her legs, at least, are about as hard as tree trunks. The two girls didn't keep similar personalities, either; while Ashisu is sweet and agreeable, the other sister, Aisuri, is disagreeable to a fault, but then it might be because she's now part spider. Aisuri has the most noticeable abnormality of the bunch- in addition to her four human limbs, she has four large, and VERY spider, legs sprouting from her back. She also likes to eat bugs. It's kind of natural that she is the one with the most skepticism about the ability of the family to be accepted by normal human beings, and the least inclination to even consider it.
The twins have a remarkable scene together in Ep. 7. It seems that as a side-effect of the drug Tanisu forces them to take, which is intended to temporarily suppress their weirder manifestations, Aisuri instead ends up turning nearly full spider, and her sister has to restrain her from harming others in the only way she can. This leads to a memorably weird (and yet somehow touching) visual when Tanisu finally finds them.
And then there's Snow, at 17 the oldest of the group. He transitions rather too easily into dog form. His full dog form is rather cute, though, and even his transitions are oddly attractive. His personality is kind of doglike too, being very attached to all his sibs but with particular loyalty to Tanisu. As with Aisuri, at one point he loses control of his power, and becomes a kind of were-dog.
There was one other scene I really liked, besides the Ashisu/Aisuri scene in Ep. 7. Later they go shopping for furniture with the person who's become sort of their guardian (and is also their landlord), named Yu Kaito. Failing to get the secondhand furniture he intended, the kids find what they need in the town dump- they're ingenious at re-purposing things, and, even more, at working together. It's logical that the kids, given the parents they had and the social isolation of the lab they were raised in, would come to rely mainly on each other, and see themselves as a unit rather than as individuals, a point emphasized by Suishi's emphatic statement, later on, that "We NEED our brother!" (And we know that when Suishi is emphatic about something, she REALLY means it.)
12 episodes of which only 15 or 16 minutes or so is story (and that includes brief summaries, and short opening and closing songs), but the cast is always interesting, and often endearing. At the time I'm writing this, this show seems so little-known that it doesn't have a Wiki article. I wasn't even ABSOLUTELY sure this was the end of its season, but the fact that Ep. 12 bears the show's title, and there were no more previews, led me to conclude this is probably the ending episode, at least for this particular phase of this oddball family's story. Maybe it even answers the question at the end of the Synopsis above. I wouldn't mind seeing more, though. — Allen Moody
Recommended Audience: Non-explicit nudity at one point, mild violence, peril. Movie rating might be about PG-13.
---

Version(s) Viewed: Streaming on Crunchyroll
Review Status: Full (12/12)
Frankenstein Family © 2018 Big Firebird Animation