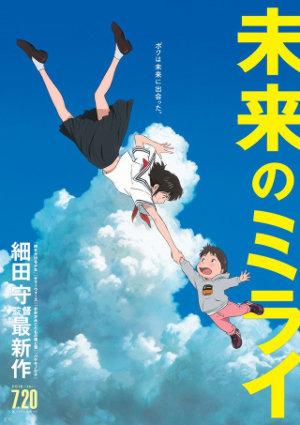 AKA: 未来のミライ , Mirai no Mirai; Mirai of the Future
Genre: Family Drama/Fantasy
Length: Movie, 98 minutes
Distributor: Currently licensed in the US by GKids/Shout! Factory.
Content Rating: PG-13 (Mature situations, abuse.)
Related Series: N/A
Also Recommended: My Neighbor Totoro; Naisho no Tsubomi; When Marnie Was There
Notes: Written and directed by Mamoru Hosoda. There were both dubbed and subtitled versions in (limited) distribution in the U.S.; I saw the subtitled version.
Rating:





Mirai
Synopsis
4-year-old Kun gets a baby sister, who his parents name Mirai ("future"), but he soon gets jealous about the attention the baby gets (especially from his mother), and becomes physically abusive to his little sib. It's clear something should be done to change his attitude- and maybe those wondrous visions that he's experiencing when he steps out of the house will do the trick.
Review
Yes, Mirai is constructed from some pieces we've seen elsewhere. Visiting one of your elders as a youngster, and experiencing their life back in the day? We were there When Marnie Was There. Meeting a teenage version of your newly-minted sibling? Naisho no Tsubomi's got it covered. Hosoda's purpose here is even the same as that of the other shows I've mentioned- to show family as the way humans preserve not just the continuity of their species, but also the continuity of love, instruction, and protection, generation to generation. So this is maybe a little less original than Hosoda's The Girl Who Leapt Through Time (and certainly MUCH more sentimental), but Hosoda does do a great job of tying both future and past together for Kun, the past in some encounters with his great-grandfather as a young man (and with his mom at an even younger age.) And the future? That's when Mirai, as a teenager, comes back in time to meet Kun.
OK, technically she's not the one who starts the ball rolling- it was actually an appearance of Kun's dog in human form that did that both metaphorically AND literally- but the teenage Mirai arrives soon after that little adventure. Her first visit is actually to request Kun's assistance with a problem created by their parents' inaction (I had never heard of the custom involved here, much less the folklore about it that motivates Mirai), but over time these mysterious experiences seem more and more aimed at teaching Kun things about family.
I began to wonder about the issue of motivation here. I doubt that Kun would have these sort of fantasies on his own. Little boy's fantasies, if my own were typical (and I think they probably are), tend to be egocentric self-aggrandizing affairs like Calvin's were in Calvin and Hobbes, so who would be sending Kun these instructive visions? Well, yes, sure, HOSODA, but within the show, is there some agent, or is this just something that's arbitrarily happening because the director wants to make these points? Maybe Mirai? As I contemplated this, I began to do some comparison/contrast with Dickens' A Christmas Carol, where the motivation for the appearance of the Ghosts (and Jacob Marley's spirit) is explicitly stated as being for Scrooge's redemption; and then it occurred to me that the Lost-and-Found scene in Mirai is very like the final spirit's vision of bleak despair for Scrooge- a vision of bitter loneliness, the loneliness of being unclaimed by any other human being. (Hosoda depicts the official interrogating Kun in this scene in a surreal "arty" style, which I thought tempered (and complemented) the scene's grimness magnificently. Of course, like Scrooge's scene with the spectral final spirit, this seems a bit coercive: you'd better find someone who cares about you, OR ELSE!)
Mirai does an excellent job of fleshing out Kun's mom as a character, who, as she says, gave up some of her bad habits with marriage and motherhood, though she's apparently still "strong-willed and persistent" as her own mom describes her. I might have added "sarcastic" and "impatient" to her list, but given what we saw of her as a little girl, in some ways she definitely HAS cleaned up her act. (Marriage and parenthood really does have that salutary effect on some people, as I can testify from personal experience- I knew a woman who went from being irresponsible and a slob (at least in my opinion) when single, to being a mom so dedicated that she studied all her daughter's school subjects so she could help her with her homework.)
Kun's dad, alas, is mainly played for comic relief, as the stereotypical inept househusband (Mom had to go back to work, so Dad minds the kids and house), and the film never goes into too much depth about him personally (or HIS side of the family); but to the film's credit there is considerable depiction of the dynamics of the parents' relationship, and of its evolution over time (and with this second kid in the house.)
I wavered between four and five stars on this one. It's not as creative as Hosoda's justly famous The Girl Who Leapt Through Time- Hosoda, by the way, now seems to be using the silhouette of The Girl as an avatar- but it's a charming blend of realistic depiction of family life combined with outrageous fantasy, and while it has a moral point to make, Kun, and his parents, act and react to things in ways that seem not just realistic, but even familiar. It's filled with playful (and occasionally profound) diversions, even though, toward the end, the whole point of the enterprise becomes all too clear. But it kept my attention all the way through, and if it's a little heavy on sentimentality, well, so was Dickens, and HIS works are considered masterpieces. — Allen Moody
Recommended Audience: An unusual warning here: we see depicted physical abuse of an infant by an older child. You might consider the possibility of imitation if small children watch this. There are some scary scenes for small children as well, including one of an infant in potential peril. Otherwise nothing objectionable. MPAA rating PG, which is just what I would have rated it.
---

Version(s) Viewed:
Review Status: Full (1/1)
Mirai © 2018 Studio Chizu