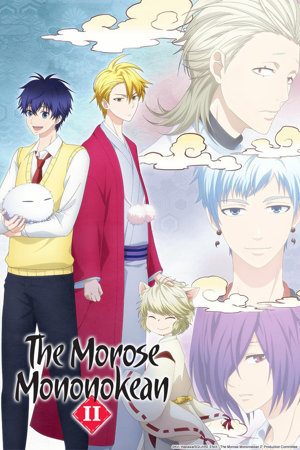 AKA: 不機嫌なモノノケ庵 II; Fukigen na Mononokean II
Genre: Fantasy/Comedy/Drama
Length: Television series, 13 episodes, 24 minutes each
Distributor: Yomiuri Telecasting Corporation (YTV), to crunchyroll for video stream
Content Rating: PG-13 (Some violence, mature situations.)
Related Series: The Morose Mononokean (First Season)
Also Recommended: Natsume's Book Of Friends
Notes: Based on manga by Kiri Wazawa, published by Square Enix (English translation is currently available in Crunchyroll's Manga portal)
Rating:





The Morose Mononokean II
Synopsis
Hanae Ashiya continues to be the "employee" of surly yokai exorcist Abeno Haruitski, meaning he continues to add an element of compassion to the end of a yokai's experience in our world that allows the yokai to exit our world much happier than would be the case with Abeno's perfunctory approach alone. But we had a slight hint in Season One that there's something else going on in Hanae, and the signs grow more alarming; we even meet the first yokai who genuinely hates Hanae. Much of this seems connected somehow to Hanae's father, named Sakae, who abandoned Hanae's family many years before. There are some grim stories connected to Sakae, and as Abeno starts to investigate Sakae's past it seems that it has some ominous connections to Abeno's own past.
Review
I was willing to go four stars on the previous season of this show, in spite of some story weaknesses (particularly a somewhat sluggish pace), because I liked the art and many of the characters both yokai and human (I LOVED Zenko), and because it held out the promise of something darker (and therefore more interesting) in the next installment. I'd say this Second Season has fulfilled a lot of my expectations. The mystery of Hanae (and his father) dominates this season, which might be just as well since I found the yokai a little less interesting this time (with the exception of Keshi, who's marvelously ill-constructed, and maybe also for the yokai that involve a weird take on Charlotte's Web.)
We've a couple of new additions to the government of the Underworld, in addition to the return of the Legislator (who remains as laid-back as the first time.) New this time are the Justice, a soft-spoken young man whose non-human form is a white tiger (with purple spots.) And we've the other necessity of tripartite government as well, the Executive, the first character in the show who actually hates Hanae for some reason.
Back in the "mundane" world (as the show calls ours), I welcomed the return of Zenko, even though she's mostly relegated to babysitting Yahiko, the fox spirit/bratty child who's mostly just a pain. Zenko exudes, well, CALM; not the sullenness of Abeno, not the frosty attitude of a tsundere, just...calm. Back in Season One there was some doubt expressed whether she should inherit the shrine, but honestly she seems to be much closer to achieving the Buddhist goal of serenity of mind than her priestly father is.
Hanae's mom is back- as pleasant, scatterbrained, and ingenuous as ever. (It's absolutely clear which parent Hanae got THOSE traits from.) We finally meet Hanae's big sister, who was briefly mentioned in Season One but never shown. She's of a different, but not necessarily bad, sort- SHE can't perceive yokai, and is a bit of a scold (I gather she feels SHE has to be the responsible one of the family); but she's also carrying a lot of resentment about their dad's desertion of the family, and is terrified of losing another family member. There's a terrific scene only lasting a few seconds, starting with Hanae declaring he's stepping out for some "fresh air", that nevertheless says a world about his sister's feelings. I liked her character design, too. With Hanae's mom, sis, and Zenko, the show has given us some very sympathetic and/or interesting female characters.
Abeno's actions, this time, show that he cares very much about Hanae, despite always calling him a "five-year old" (AND despite the fact that Abeno and Hanae nearly literally come to blows at the school festival.) The show has set the stage (and set aloft some dark clouds, for atmosphere) for a Third Act. I'm looking forward to it.
Despite the show's usual slow spots, Hanae's situation (and what Abeno ends up doing about it) have got my interest locked in. The character art is still great (though the yokai designs seemed a little weak this time..again, except for Keshi!) And I hope to see a lot more of the show's trio of terrific HUMAN female characters. — Allen Moody
Recommended Audience: Violence and peril (mostly toward the end of the show). PG-13 or so.
---

Version(s) Viewed: Digital stream on Crunchyroll, Japanese with English subs only.
Review Status: Full (13/13)
The Morose Mononokean II © 2019 Studio Pierrot