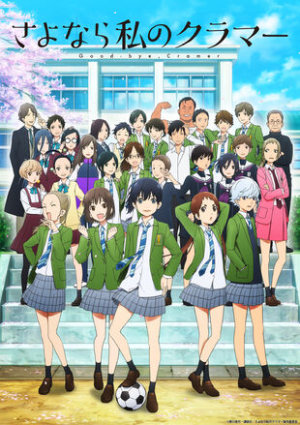 AKA: さよなら私のクラマー (Sayonara Watashi no Cramer)
Genre: Sports/Drama/Comedy
Length: Television series, 13 episodes, 24 minutes each
Distributor: Currently available streaming on crunchyroll.
Content Rating: PG-13 (Mild violence, mature elements.)
Related Series: Farewell, Dear Cramer - The Movie
Also Recommended: Harukana Receive
Notes: This review includes the prequel OVA First Touch
Rating:





Farewell, My Dear Cramer
Synopsis
After playing soccer with boys in middle school (details are in the OVA), Nozomi Onda is encouraged by her middle-school coach to join a girls' soccer team in high school because, he says, women's soccer needs outstanding female players to attract the public's interest. But the team she joins, Warabi Seinan High School's team, has some issues...
Review
Warabi's team does indeed suffer from a number of painfully obvious problems, which broadly fall into the categories of sexism and mismanagement. As for the sexism, the school is putting its resources mainly into rebuilding its reputation in BOY'S soccer, and the boys get the lion's share of resources- including exclusive access to the school soccer court; the girls are relegated to practicing in an open field off-campus.
But the mismanagement problems may be even worse. The male "coach" the school has assigned, named Goro Fukatsu, seems utterly uninterested in coaching the team at all; he mostly acts bored to be there, and seems to just want to read a horseracing magazine. (Late in the show, the girls, desperate for SOME guidance in the middle of a game, beg and browbeat him into giving them exactly ONE piece of advice.) We will get some of Fukatsu's backstory, which does give some clues about why he's like this.
The team DOES also have a female co-coach, a former star of women's soccer named Naoko Nomi, but I'm not sure she's that much of an improvement. Her idea of team building mainly seems to consist of calisthenics, and group punishments. Oh, and she picks uniforms for the team of such an embarrassing design that the girls have to veto them. The first team she books to play against the Warabis might as well be professional athletes, but she INTENDS for her own team to suffer an humiliating defeat; she thinks this will increase the team's resolve. Frankly, I thought this could have just as easily had exactly the opposite psychological impact on our fledgling team.
In any case, neither of our team's coaches is doing a very good job on the issue of tactics. The Warabis are a team with three hotshot players who seem to have largely been left on their own- one of them actually SAYS that an athlete is "alone" on the field- when what is clearly needed are coordinated strategies. Without those, our core outstanding players are just left to be prima donnas. (Besides Onda- who's our superstar- the other exceptional players include two who were friendly rivals in middle school soccer, named Sumire Suo and Midori Soshizaki; Sumire in particular is incredibly fast in final sprints to the goal posts, while Midori (along with the team's Captain, Eriko Tase) is particularly concerned with the team's morale. ON THE OTHER HAND, there's one girl, named Aya Shiratori, who's an egotist (she calls herself "The Swan), and thinks she's an ace at scoring goals, but we see that her actual performance falls far short of her subjective opinion of herself.)
Let's compare the Warabis with their chief rivals, from a school called Urawa Hosei. (One of Midori's fellow soccer players from middle school, named Chika Kirishima, plays on Urawa's team.) Urawa uses spies to identify their opponents' strengths and weaknesses; this does not seem to have occurred to the Warabis. More important, Urawa has a set of planned and practiced strategies, and can quickly shift from one to another if their opponents get wise to what they're doing and try to counter; the Warabis seem to have nothing like this. And Urawa has "secret weapons", players whose abilities are carefully concealed from their opponents until the most opportune moment. Urawa is, in short, a pro-active team that looks like it might have carefully studied Sun Tzu's The Art of War, while the Warabis are a reactive group of individualists with little or no strategic planning, much less the ability to quickly counter their opponents. There are REASONS why the Warabis are "struggling." And to the show's credit, it's all there for us to see.
The OVA, First Touch, covers Onda's middle school soccer experience, when she was allowed to play against the boys- though ONLY in practices, not in actual competitions. Onda's particular strength is exquisite control of the ball- she can make it go exactly where she wants it to- and she's reasonably fast (though not as fast as Suo in the girls' team she eventually joined.) But her lighter frame makes her more vulnerable to injury in tussles with the boys than another male player might be (she does get badly injured a few times), and the coach uses this as an excuse to limit her participation. But Onda is not one to easily accept limits, and she's the sort who'll engage in blackmail and bribery to get her way (she does this in both the OVA and the series)- and maybe even things more over-the-top than THAT. (She owes a TREMENDOUS apology to someone close to her.)
I honestly liked the OVA more than the series itself, for a couple of reasons. First, focusing on one character maybe makes it easier to engage with that character than having to divide our attention among several; and second, there are some excellent "traveling shots" from the player's POV as they race down the field. The latter reminded me of the action shots in some higher-end video games, but there's nothing exactly like this in the series itself.
And the Odds-And-Ends:
-I thought the series started a little slowly, but it did pick up steam after the first episode, so I'd advise a little patience.
-There's this weird thing where some guys are watching the girls play from behind a fence, but we don't see the fence directly in front of their faces; it's like they were ghosts peering through the metal mesh.
I found this more interesting than most sports anime, maybe because of the girls' struggles against the sexism of the school establishment- and against the indifference and/or incompetence of the adults who are supposed to be "helping" them. Maybe Fukatsu will have a change of heart sometime? — Allen Moody
Recommended Audience: The show doesn't seem to have much fanservice, and what violence there is comes from the rough-and-tumble of the game itself. (Onda obviously DOES have some potential as a dominatrix, though.) Mostly mild violence, mature situations. I'd say 13+ for age rating.
---

Version(s) Viewed: Streaming on Crunchyroll
Review Status: Full (13/13)
Farewell, My Dear Cramer © 2021 Liden Films.