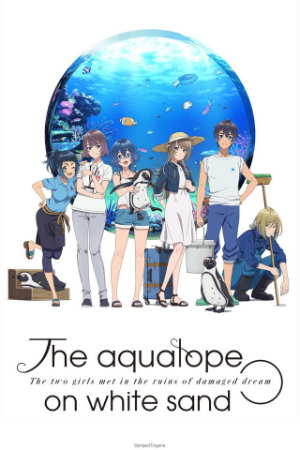 AKA: 白い砂のアクアトープ ; Shiori Suna no Aquatope
Genre: Slice of Life
Length: Television series, 24 episodes, 24 minutes each
Distributor: crunchyroll for video stream (Crunchy gives publisher as DMM Corporation)
Content Rating: Pg-13 (Mature situations.)
Related Series: N/A
Also Recommended: Amanchu!
Notes: Written by Yuko Kakihara, directed by Toshiya Shinohara

Copyright: 2021 Tingarla Project
Rating:





The Aquatope On White Sand
Synopsis
Her career as an idol star apparently tanking, Fuka Miyazawa flees to Okinawa, where she meets a girl named Kukuru Misakino, who is managing a small aquarium, named Gama Gama, for her grandfather.
"She never grows" - Kuya Yakamashi, about Kukuru
Review
The show is pretentiously subtitled, "The Two Girls Met In The Ruins Of (A) Damaged Dream", but it's really much more about ONE of those girls than about the other. Frankly, I've seldom seen a show that goes through the trouble to create at least a few interesting characters, but then devotes the bulk of its time to its most boring one.
I certainly would have liked to have known more of what was going on in Fuka's head. Her relationship with Kukuru sometimes seems like simple friendship (I really liked some scenes where they're talking things over on the beach at night.) It certainly never seems exactly like a yuri relationship. But there's a hint of an unhealthy dependency there, of Fuka's clinging remora-like to Kukuru even when it's not in Fuka's own best interest. It appears most obviously near the end of the series, but it never really explicitly comes up as a subject in the dialogue between the girls. Fuka acts like she has no regrets about losing her idol career, but there is exactly ONE line, which she directs to a former kouhai of hers, where she indicates she's aware of how her career change might be perceived by others. I wanted to know more of Fuka's backstory, and what was currently going through her mind, than the show was willing to reveal.
I felt the same way about Kuya, the guy whose quote opens this review. He's surly and taciturn most of the time. The traumatic experience that made him this way is explained to the other cast members by the only person familiar with his past, and everyone gets to note how sad that all is- and then the show shoves him right back into the background, an outsider STILL mostly left outside. And yet he's been paying attention, for his quote about Kukuru is right on the money. (More about HER later.) I wanted to know more about his relationship with Karin Kudaka, the girl who apparently had been his classmate when his trauma occurred, and who somehow still has a relationship of sorts with him. Despite the fact that he supposedly hates all women, he puts up with her scolding and nagging him to be more social. It seems more like the treatment a responsible older sister might give a wayward younger brother, and not romantic in any way, but WHATEVER is, or is not, going on there, it also sounds more interesting than the show's main focus, which is (DRUMROLL, PLEASE):
….Kukuru. She's by far the dominant character in the second half, where she, and most of the other cast as well (including of course Fuka) move over to a bigger aquarium called Tingarla. 99% of Kukuru's character can be summed up as: SHE LOVES SEA CREATURES. She also hates her new job at Tingarla, partly because it takes her away from direct interaction with her beloved Sea Creatures, but also because she's placed in Marketing, where she feels like a Fish Out Of Water (this was an INEVITABLE metaphor, don't blame me), even though she did do some promotion work for Gama Gama while she was there (including one scheme that was so ill-considered that her grandfather vetoed it.) Still, I can understand her frustration with her middle-management post at Tingarla; while she is encouraged to come up with some original ideas, much of her job is getting the staff to implement decisions made by higher-ups, decisions which she often finds ill-advised, and which the line workers push back hard on. I've been in middle management myself for many years now, so I understand her grief. But as Kuya notes, she resists growing. It's clear that she misses being the Boss herself, as she was at Gama Gama. It's also clear that she's not very good at adaptation to a new role.
I should mention Kai Nakamura as well- not because he's an interesting character though; far from it. He's maybe even more a boring "white bread" character than Kukuru, and so might be a perfect match for her. (The show seems to lean to this conclusion as well.) No, I mention him because he has a personal tragedy, which the show mentions, and then finishes with, in just a few lines of dialogue, without even a perfunctory actual visit to the party afflicted. Since this is a Non-Kukuru event, I guess the show just didn't think it worth pursuing.
Also Noted:
-I have no idea what the function is of that little sprite that appears in the credits, and sometimes in the episodes themselves.
-There are quite a few scenes of Kukuru and her entourage getting together outside of work, usually at a restaurant, but there's a home party or two as well. I DO hope that they're all of drinking age in Japan, since alcohol consumption (and in some cases OVER-consumption) is prominently on display.
-While many plot opportunities that might have been interesting were not pursued, several that are utterly predictable WERE. When a very pregnant veterinarian stops by Kukuru's aquarium on a day when there's no public transportation available, OR when Kukuru and company are bringing some sea life to a hospital to show the kids there, but a nurse right up front declares "No crabs!" because of her morbid fear of them, anyone with more brains than a jellyfish could predict how things were going to develop.
-Yes, you WILL find out what an Aquatope is, eventually.
The show discards so many opportunities to develop its potentially interesting characters, in favor of spending its time on one with a very limited personality. Sure, there are probably more mediocre people than fascinating ones, but we don't make 24-episode series about them. Or at least we didn't, until Reality TV. — Allen Moody
Recommended Audience: Alcohol consumption, mature situations. I'd go PG-13.
---

Version(s) Viewed: Crunchyroll video stream
Review Status: Full (24/24)
The Aquatope On White Sand © 2021 P.A. Works