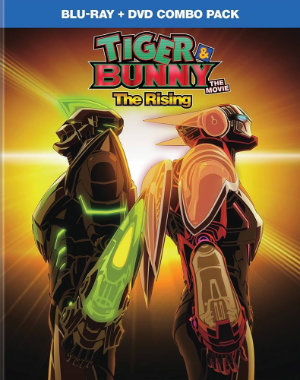 AKA: 劇場版 TIGER & BUNNY -The Rising
Genre: Superhero/Shonen/Drama
Length: Movie, 94 minutes
Distributor: Currently licensed by Viz Entertainment, also available streaming on Netflix.
Content Rating: 14+ (Violence, mature situations)
Related Series: Tiger and Bunny Movie 1: The Beginning; Tiger and Bunny TV series (2 seasons)
Also Recommended: Re: CREATORS; Ajin: Demi-Human
Notes: Created by Hajime Yatate; directed by Yoshitomo Yonetani

Copyright: 2014 Sunrise/T&B Movie Partners
Rating:





Tiger and Bunny Movie 2: The Rising
Synopsis
Demoted to Second League heroes in First Season, Barnaby and Kotetsu are led to believe that venture capitalist Mark Schneider, the new owner of Hero TV's parent company Apollon Media, plans to bring them back to the First String lineup, but our pair are only half-right about that. Meanwhile, does the city of Stern Bild face new devastation from an old curse?
Review
I'd say that not many cities have their own legends of apocalyptic destruction, so Stern Bild IS a pretty unusual place.
This movie is supposed to be a "bridge" between regular Seasons One and Two of the series, and introduces patronizing egomaniac Golden Ryan, who was certainly an unwelcome addition to the show, even though his power IS fairly nifty.
The Rising mainly focuses on two of our heroes, who are brought down by, in one case, an unexpected change in job status, and, in the other case, by an old terror of social disapproval. The Rising is relevant since it addresses the pariah status gay people have suffered, and it's particularly poignant given the political resurgence of that bigotry in the public sphere. But I WILL say, with some slight spoilage, that at least in The Rising this is finally overcome with a message of Gay Pride that's extremely welcome, even among the more sensible of us here in Florida.
But Kotetsu remains the primary protagonist here; once again we're reminded that he's a hero because he wants to help people, not for fame or money. His relationship with his daughter Kaede remains at arm's length, literally- she refuses to let him touch her (though she MIGHT be afraid of accidentally acquiring his superpower)- but she's working behind the scenes for him when she thinks he needs it. And Blue Rose, at this stage, is still being (mildly) tsundere toward our Tiger.
The action sequences are, as usual, first-rate; the final confrontation between one of the supervillains and 3 of our Heroes- Blue Rose, Dragon Kid, and Fire Emblem- is one of the most emotionally satisfying I've ever experienced (for a very particular reason, here.)
As Hero TV director Agnes Joubert would put it, when dispatching the heroes to catch a gang of villains, "Apprehend them on sight, and make it look good for TV."
Terrific fun- even the Marvel Comics people could learn some things about comic-book writing from this show- but this installment does a particularly credible job of making us feel empathy for its two characters who feel (or have been MADE to feel) like outcasts, and filling the audience with satisfied excitement when they finally Rise in triumph. Though I STILL don't like Golden Ryan very much. — Allen Moody
Recommended Audience: Violence, including psychological trauma here. Right Stuf rates the DVD/Blu-Ray as 14+.
---

Version(s) Viewed: Netflix video stream
Review Status: Full (1/1)
Tiger and Bunny Movie 2: The Rising © 2014 Sunrise/T&B Movie Partners