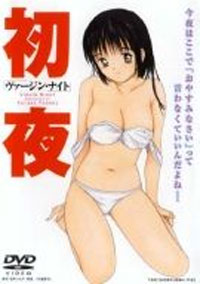 AKA: Shoya ~Virgin Night~
Genre: Erotica
Length: OAV, 30 minutes
Distributor: Currently unlicensed in North America
Content Rating: NC-17 (explicit sex)
Related Series: N/A
Also Recommended: (all non-hentai) Ai Yori Aoshi, His and Her Circumstances, I Can Hear the Sea, Please Teacher!
Notes: Based on the manga Shoya ~Virgin Night~ by Tanaka Yutaka.
Rating:





Virgin Night
Synopsis
Azumi and Yuzuru are two young people who have been in a serious relationship for a while. Yuzuru wants to become more intimate with Azumi, but she isn't quite ready, so they go to a video store, unsure of what to do next. Finally, on the way back to Azumi's place, she tells Yuzuru that tonight, he doesn't have to go home ...
Review
I had no idea what I was getting into when I got this anime. What I was expecting was just another droll trek through spooge, like a hundred other titles with vaguely suggestive names. I couldn't hope for another End of Summer in the hentai genre, right?
I may have found something just a smidgen better.
Despite the one explicit sex scene in this film, Virgin Night isn't really pornography, so much as a glimpse into a very realistic first-time encounter between two people who obviously care about each other. No weird kinks, no strange camera angles, and no whiff of tentacle to speak of.
In fact, about half of this OAV isn't even about the sex, so much as the awkward and cautious feeling of two first-timers who don't really know how to get around to making love. While the promotional art may make Azumi look seductive (if very much a girl-next-door), she is every bit as shy as they come. If it weren't for the fact that this was anime, you'd even wonder how on Earth she allowed a camera in the room!
The animation is actually quite good. No, not "quite good for hentai", I mean "quite good". The detailed backdrops only heighten the sense of realism in this anime, where most hentai scenery tends towards the fantastic or nondescript. The only noticeable problems were some cel glitches where the animation framing itself was off, but that doesn't detract much except for animation purists. And while the anime character designs are a bit different from the manga (despite having the same artist), they work well. Azumi is cute, but not overwhelmingly gorgeous. Yuzuru is an average, but earnest young guy. These are EveryGirl and EveryBoy ... in a sense, we're watching ourselves, but not in a voyeuristic way so much as an introspective one.
The big thing here is that, even more than End of Summer, or just about anything else in adult anime for that matter, you get the distinct feeling that Azumi and Yuzuru are very real people. The single sex scene, while plenty explicit, is consensual, tastefully handled, and shows more honest passion than many entire series do. Intimate, erotic, and very, very sweet.
I've been waiting to say those words about an adult anime for far too long.
While those viewers looking for various positions of the Kama Sutra will be sorely disappointed, adult anime fans (especially young couples) will find plenty to appreciate in this short, but satisfying title that feels more like a look in the mirror than a look in the shower drain.
Something tells me that I will have to look for the manga next time I have the chance.
While too short to be a classic, this piece of well-made erotica stands on its own two feet as an anime artwork, where most hentai do not. Remove two stars if all you're looking for is sex. — Carlos/Giancarla Ross
Recommended Audience: Adults only, due to an explicitly shown sex scene. However, the scene itself is tastefully handled and consensual. Fine for mature viewers, especially couples, who enjoy erotica.
---

Version(s) Viewed: Digital, raw Japanese
Review Status: Full (1/1)
Virgin Night © 2001 Tanaka Yutaka / Take Shobo