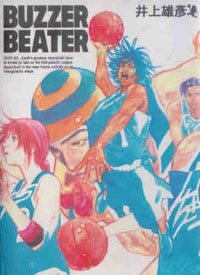 AKA: N/A
Genre: Basketball action
Length: Television series, 13 episodes, 25 minutes each
Distributor: Currently unlicensed in North America
Content Rating: 13+ (rough language, foul play)
Related Series: Buzzer Beater (2007)
Also Recommended: Slam Dunk
Notes: Based on the digital source by Inoue Takehito.
Rating:





Buzzer Beater
Synopsis
Many years into the future, the game of basketball has been monopolized by an alien race known as the Goran, whose physical characteristics and abilities surpass humans. As a result, human teams are non-existant in the greatest league in the universe: the Space League. With the desire to reclaim the championship for the race that created the game in the beginning, two people set out to form a human team with the best players from all over the world.
Enter Hideyoshi, a poor orphan who makes a living by winning basketball matches against the neighborhood ruffians. One day, he meets a rather strange girl, who eventually recruits him to join the championship team.
Will the humans finally be able to bring the championship trophy back to Earth? What challenges will Hideyoshi and gang meet along the way? Why horns, of all things?
Review
Ah, basketball. The sport hasn't been a very common theme in anime titles, with only three major ones in not-so-recent memory -- Dear Boys, Slam Dunk and this. While the former two took on the traditional setting of a high school basketball team, Buzzer Beater has tried a more unconventional approach: aliens.
For you to have mental imagery of leather-skinned beasties with horns ... isn't very far from the truth, unfortunately. As the story goes, the Gorans aren't just your typical saliva-dripping, Sigourney Weaver-chasing, garden variety aliens -- they are actually humanoid, bald ... er, aliens, who play a really mean game of basketball. So good, in fact, that they've entirely eliminated human competition from the sport that humans invented in the first place. Oh, and they also have eeeevil horns.
It's not surprising that this miffed more than a couple of Homo sapiens along the way. To reclaim lost honor and all that, someone somewhere (I'm trying to avoid spoilers here) got the great idea of putting together the best players on Earth to form an all-human championship team that will prove its worth in the Space League.
However, no shounen team would be complete without its obligatory loud-mouthed, cocky brat, of course. Hideyoshi joins the team with the intention of beating the star Goran player, Gyuma (did I mention he has horns?), and is so confident in his abilities that he considers himself the star player of his team. Needless to say, he isn't, as the human team consists of a varied selection of players with their specialties and idiosyncrasies.
Here's where the first problem with Buzzer Beater creeps up on us: the supporting team members, while being unique characters in themselves (they have names!), are so inconsequential to the plot that most people would forget their names, positions and looks by the end of the 13 episodes. Maybe some would remember the point guard, D.T., who serves as the other pivotal character in team, or Cha-che (because she's the only young girl), but otherwise it's all about Hideyoshi and his [SPESHUL HIDDEN TALENTS]. Because we know that all shounen lead male characters have [SPESHUL HIDDEN TALENTS] waiting to be UNLEASHED by some [MAJOR PLOT EVENT] (usually getting beaten up horribly). Hear originality fart, right about now.
While some of the episodes attempt to focus on individual members of the team to explore their characteristics, most of it fails miserably because everything's so segmented that you don't get a feeling of continuity anywhere during the series' run. The team plays all of two major basketball games (there's a third one that's a couple of minutes long) and these so-called "games" consist of little more than a CG ball, speed lines, grunting and horns. No, I didn't mean it that way. There's no semblance of a good game, as you can't tell what anyone's doing other than having close physical contact and dunking, and the action moves are recycled rather frequently.
Maybe it's the result of compressing too much manga story into a short anime series. The show *does* start off with some impetus, but loses direction towards the end, as if the suits higher up decided to axe the show (could be true, I don't know), and they had to wrap up the plot for completion's sake.
The art takes a while to get used to -- it's not exactly ugly, but more unconventional. Both the humans' hair and the Gorans' skin come in various pretty colors, and the overall look of the environments is bright and flashy somehow. Sadly, the animation is dodgy at best, with even fluidity-challenged titles like Naruto and Bleach standing over its unconscious body, flailing it to death with their speed lines.
So, does Buzzer Beater have anything going for it at all? Anything? Frankly, no. Its few attempts at "humor" pale in comparison to Slam Dunk's exploitation of genius, and even the mediocre Dear Boys carries a more coherent plot. I'd award it brownie points for the interesting setting, but ... it's the horns. The HORNS! I mean, having the Goran burn children's books, litter in town parks and yell, "We hate Captain Planet!" would have been a far less obvious statement about being the Bad Guys than having ... horns.
You'd be better off watching something else. I know, real life basketball has its share of boring games and mediocre plays, but I'm quite sure that if you mentally slap two horns onto Vince Carter and color him bright yellow, it would be more fun than watching Buzzer Beater.
A plot lacking direction, poor animation and forgettable characters a basketball title do not make. And the horns. The horns! Ugh. — Enoch Lau
Recommended Audience: Dirty, unsportsmanlike conduct by the Gorans is the second most offensive thing in Buzzer Beater. The worst is having to watch a cocky, loud-mouthed brat for a lead character.
---

Version(s) Viewed: digital source
Review Status: Full (13/13)
Buzzer Beater © 2005 IT Planning / TMS Entertainment