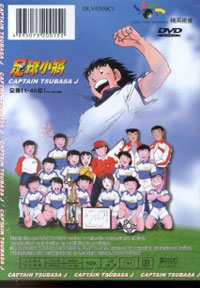 AKA: キャプテン翼J, Super Campeones (Spanish), Olive et Tom (French), Captain Majid (Arabic), Holly e Benji (Italian)
Genre: Shounen sports anime
Length: Television series, 47 episodes, 25 minutes each
Distributor: VHS, Spanish dub only in North America
Content Rating: PG (mild violence)
Related Series: Captain Tsubasa, New Captain Tsubasa
Also Recommended: Captain Tsubasa Road to 2002, Slam Dunk, Whistle
Notes: Based on the manga by Takahashi Yoichi. This is a mini-review originally included as part the Captain Tsubasa review text and not truly a full review of this series.
Rating:





Captain Tsubasa J
Synopsis
For the background on the Captain Tsubasa story, refer to the TV series review. Captain Tsubasa J features the adventures of the now-grown Tsubasa and Company.
Review
Captain Tsubasa J is simply the grown-up continuation of the original series, but now the Japanese team has been picked out, and the rivals are now partners. All the favorites from all the school teams have been chosen! Yay! Now, they have a new uniform, and they're in Europe.
Mostly, it's pretty much just more of what we liked about Captain Tsubasa. The ending, however, may be a cop-out to some, but it's original.
Same as the first TV series. — Eric Gaede
Recommended Audience: Again, little objectionable content to speak of - these aren't soccer fans we're dealing with!
---

Version(s) Viewed: Television, Spanish dub
Review Status: Full (47/47)
Captain Tsubasa J © 1994 Takahashi Yoichi / Shueisha / Tsuchida Productions / TV Tokyo