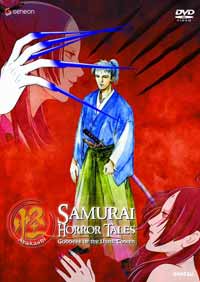 AKA: 怪~ayakashi~ Japanese Classic Horror, Ayakashi: Japanese Classic Horror
Genre: Horror / historical / classical
Length: Television series, 11 episodes, 23 minutes each
Distributor: Currently licensed by Discotek Media.
Content Rating: PG-13 / R (adult themes, violence, intensity)
Related Series: Mononoke
Also Recommended: Angel's Egg, Hitsuji no Uta, Mermaid Forest / Mermaid Saga, Vampire Hunter D: Bloodlust
Notes: Based on classical Japanese ghost stories, the 3rd installment of Fuji TV's Noitamina experimental anime block. Character designs are done by Amano Yoshitaka, the man who created designs for the Vampire Hunter D novels and anime, Mamoru Oshii's Angel's Egg, as well as illustrations for Neil Gaiman's Sandman.

See synopsis for further info.
Rating:





Ayakashi: Samurai Horror Tales
Synopsis
This short series is separated into three different stories, all of them equally terrifying. This series is actually based on the book Toukaidou Yotsuya Kaidan by Tsuruya Nanboku. The book is a collection of ghost stories which was first published in 1826. Apparently the book tells the tales of one of the most famous ghost stories in Japan.
The first tale is titled Yotsuya Kaidan, which is about two men that conspire with each other to murder the men standing in the way of the women they wish to take as their wives. Once successfully slaying their obstacles, it turns out their rewards were not enough to satisfy. Tamiya Iemon, who killed his father-in-law in order to marry the family's daughter, later on poisons her because she stands in the way of a very profitable remarriage. The poison disfigures her hideously, and she commits suicide swearing revenge on her estranged lover.
Following this vignette is Tenshu Monogatari, which is about Tomihime, owner of the divine Shirasagi Castle, who falls in love with a falconer named Zushonosuke while he was travelling along the enchanted castle gates. The two try to deny their fates as human and goddess, and together must face their damnation.
Bakeneko is the final chapter of this series, which also takes place in the Edo Era. The untimely death of a young samurai bride sends the entire family up in a panic, and the village druggist swears it is the work of a bakeneko, or cat monster--which continues to kill off family member after family member before finally appearing before horrified villagers, revealing a long-forgotten scandal that tainted the family for generations to come ...
Review
Living in Japan has provided me with an entirely new way of looking at the anime which I review -- to the point it had spoiled me because everything I watched was met with indifference. I didn't have to wait with bated breath for things anymore ... it was right there, at my fingertips, every week.
With the hours I kept, though, the only time I managed to watch anime was after 10pm, and the Noitamina block every Thursday night at 12:35am was really the only thing I could follow regularly. And a good thing too, because the block was aimed mainly for college students and young adults. So with the titles that preceded it, and this title included, there were no boobs, no fanservice, no panties, no [insert offense here] to be found within a 100-meter radius.
Finally, an anime you can take seriously. Finally, an anime series that makes you feel smart for watching it. Don't let the Samurai Champloo-esque theme song throw you, there is nothing modern about the content of this series once you start watching. The art style looks like it came to life and walked straight out of the novels from which these stories originate. The voices are all fitting and not one sticks out from the other, which results in a seamless storytelling effort. As far as the animation goes--each story takes on a different animation and art style, and the expressions of the supernatural border on the breathtaking. Each of the different stories can be viewed seperately, and almost seem to be completely different productions.
Coming from someone who has never liked horror movies, and has never found ghost stories or anything of the sort intriguing in any sense, what I have seen of the series has been downright chilling. You don't need the gore and sensationalism to strike into the hearts of man. The simple gestures demonstrated in this series are equally as cruel--if not moreso.
This is not a mindless series to watch while falling asleep. Not only is this series too rich with history and content, but--come to think of it, you'd best watch this series with the lights on.
Just when I was beginning to feel like I was outgrowing anime, this gem comes along and reminds me there is still so much yet to learn. Anime is a fantastic story-telling tool, and this is a great to introduce yourself or re-introduce yourself to some of the classics. Take off a star if you are wanting something that you don't have to think about, or if you are squeamish. — Melissa Sternenberg
Recommended Audience: Best for those that want to get a taste of true Japanese history, without the frills and glory of titles such as Rurouni Kenshin or other more romantic titles.
---

Version(s) Viewed: digital source; raw Japanese (television broadcast)
Review Status: Partial (10/11)
Ayakashi: Samurai Horror Tales © 2006 Toei Animation